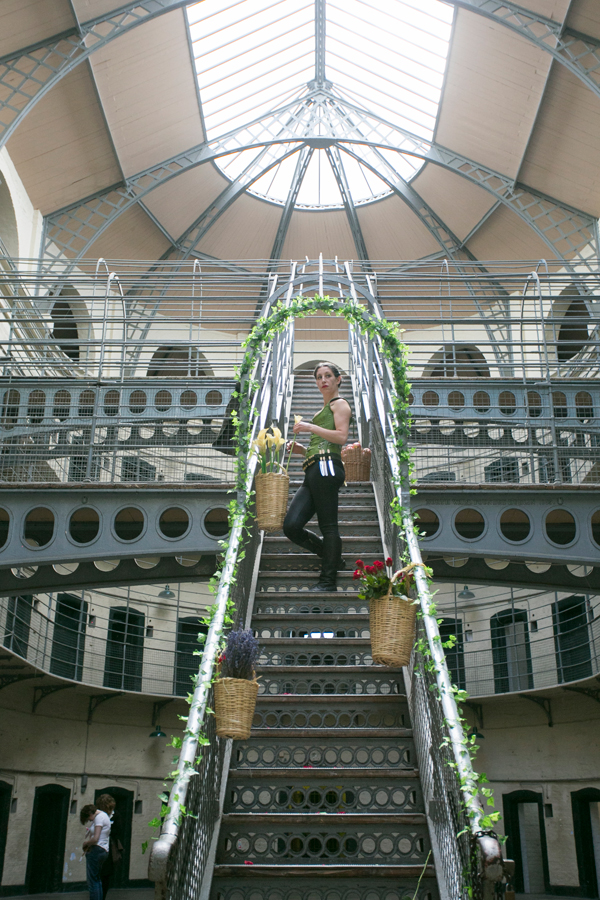 Helena Walsh, Autonomy, 2016, in Future Histories,
Kilmainham Gaol, Dublin (Photo: Joseph Carr) 
Performed at: Future Histories, Kilmainham Gaol Dublin, an exhibition curated by Aine Phillips and Niamh Murphy as part of the Arts Council of Ireland 2016 programme, which took place on 21st May 2016

Duration: 10 hours

Autonomy is durational performance inspired by the female activists involved in the 1916 Rising whose traces are imprinted on Kilmainham Gaol. Referencing the diverse, innovative and, at times, covert roles of women during the Rising, which alongside involvement in the fighting included the concealment of weapons and dispatches on their bodies, the performance challenges the trivialising of their involvement following independence. Considering the political ideals informing the women of 1916 in light of the ongoing battles for autonomy being fought by the women of Ireland 2016, the performance explores the tensions between nationalism and feminism. Many female revolutionary activists were committed feminists who believed that a free Ireland would enable the political enfranchisement of women. Their influence is inscribed in the Proclamation of the Irish Republic, which declared 'equal rights' to all citizens. Yet, the promise of gender equality was betrayed by the post-colonial Irish state through the legislative restricting of women to the duties of procreation and domesticity. Through undertaking a contemporary re-imagining of the ways the women of 1916 transgressed patriarchal gender norms the performance rebels against the ongoing attempts to contain female sexuality and the continued legislative restrictions on reproductive autonomy.

Materials used: Lavender, roses, Rubber lilies, apples, gold-sprayed tampons, plastic ivy, butter knives, wicker baskets.